Melbourne and Beyond
Melbourne a Thu Hwnt
Victoria Welsh Choir undertakes two dozen or so performances a year in Melbourne and beyond, including:
The Choir's annual concert in Melbourne during the Welsh community's celebrations of St David's Day (1st March), usually under the baton of a guest conductor from Wales
Another major concert in Melbourne with well-known soloists such as David Hobson, Silvie Paladino, Marina Prior and Jane Rutter

Concerts performed at local venues from Mildura to Mallacoota, and from Wonthaggi to Wagga Wagga, as well as throughout Melbourne, often to raise funds for community projects
Leading the singing in Cymanfaoedd Ganu hymn festivals at Welsh churches in and near Melbourne
Participation in events conducted by the RSL, such as the Remembrance Day service in Springvale
Corporate, sporting or private engagements such as weddings.

To read what audiences say about our concerts see Feedback, and for details of upcoming concerts see Welcome.

Picture: Vic Welsh sings carols Melbourne style, Central Park, Malvern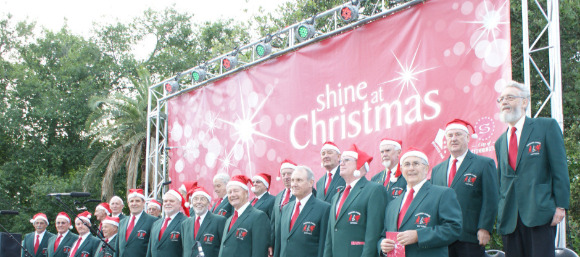 Vic Welsh Rehearsals
Ymarferiadau Vic Welsh
Victoria Welsh Choir is based in Blackburn, Bendigo and Ballarat - a round trip of 400 kilometres.  Is this a record?
Initial learning of our parts (and last-minute revision!) can be done at home, using specially prepared recordings in which each part is audibly highlighted, and which can be played on a  computer or hand-held device.  This enables us to use precious time on rehearsal nights to focus on putting the four parts together with the right balance and adding the final polish.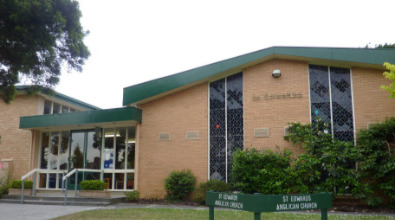 Melbourne rehearsals are held at St Edward's Anglican Church in Edinburgh Road in the Melbourne suburb of Blackburn South on Wednesdays (except in summer and winter breaks).  They run from 7.30 to 9.30pm.  Rehearsals are usually preceded by a rehearsal for our soloists from 6.30.  Visitors are always welcome.

As from February 2022 Bendigo rehearsals will normally be held at St Luke's Church Hall, 494 Napier St, White Hills on Thursdays, except during the summer and winter breaks.  Welsh lessons from 6.15pm, choir from 6.30pm, finish 9pm.

Prospective new choristers and other visitors are most welcome - confirm the date with the Bendigo Branch administrative leader, Keva Lloyd (kevalloyd7@gmail.com, 5448 3839).
Picture: The former Sandhurst Gaol, now Ulumbarra Theatre, the setting for our sell-out concert in 2015 and another with Silvie Paladino and an audience of 700 in 2017.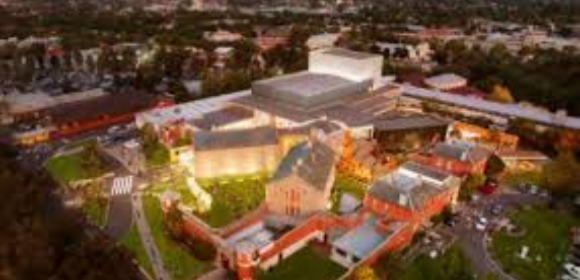 The Ballarat branch of Victoria Welsh Choir is recruiting.  If you enjoy singing, or who think that you might, come along to a rehearsal. These are mostly held at 6:30 on Monday nights at St Peter & Paul church hall, Fisken Street, Buninyong . For details, and for dates of summer/winter breaks, phone John White on 0402 808 299.
Picture: Wendouree Centre for Performing Arts, where audiences of 800+ have heard us.

Vic Welsh's Music
Cerddoriaeth Vic Welsh
At the heart of Victoria Welsh Male Choir's repertoire – a quarter of it or so – is of course the music which has earned Wales the title "Land of Song", such as:   
Stirring hymns that raise the roof in chapels from Caerdydd to Caergybi   
Poignant ballads of young (and not-so-young) love - almost always unrequited!   
Age-old folk songs
Most of these we sing in the language of heaven – Cymraeg.
The rest of our range encompasses various genres, including:   
Music from other Celtic nations, such as Ireland, Scotland and Cornwall    
Songs from a variety of other countries and cultures, including Australian songs and American gospel songs   
Choruses from opera, light opera, stage and film   
Popular songs from the two world wars and the periods before, between and after them
As a male voice choir we sing these songs in TTBB (Tenor 1, Tenor 2, Baritone and Bass) arrangements, in which the four parts are much more closely blended than for mixed choirs.  We almost invariably sing from memory.  Our concerts also include contributions from soloists – who may be professionals, choir members or performers from the place we are visiting – and a dash or three of humour!
Vic Welsh's Music Team
Tîm Miwsig Vic Welsh
Most of Victoria Welsh Choir's success can be attributed to our music team.  In contrast to many of our brother choirs in Wales, since 1988 our music team has been entirely female.  Here are its present members:
Musical Director: Faleiry Koczkar OAM
Faleiry Koczkar  (née Phillips) was born in Cardiganshire, Wales.  Welsh was her first language and she did not speak English until she was 6 years of age. Faleiry played the harp in the Welsh National Youth Orchestra and attained a Bachelor of Music degree with honours at Nottingham University, an Associate Diploma for harp performance from the Royal College of Music in London and a Diploma of Education from the University of New England, Armidale, NSW.  Faleiry has been a music teacher and director in London, Sydney, Adelaide and Melbourne.  She was Director of Music at Melbourne Girls' Grammar School from 1981 to 1994.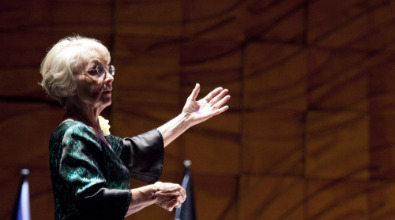 Photo: Arts Photography Belinda. 
Since her appointment to Victoria Welsh Choir in 1994 Faleiry has been a huge asset to the choir and through her experience, knowledge and teaching skills, Vic Welsh's ability to sing as a Welsh choir has been greatly enhanced.  In 2015 we were proud and absolutely delighted to announce that Faleiry had been awarded the Medal of the Order of Australia for services to choir music. The timing was particularly relevant to us as Faleiry had celebrated 20 years with Vic Welsh earlier that year. But, of course, she has been involved in music education generally in three states for over 40 years in a number of different schools.

Inside and outside our choir Faleiry has also been deeply committed to the sustenance of Welsh language and culture and her work in this area was recognised by the National Eisteddfod of Wales in August 2012 making her Llywyd Cymru A'r Byd (President of Wales and the World) 2012-3 in recognition of her services to Welsh culture and the Welsh community in Melbourne.  It is therefore totally fitting that Faleiry has been honoured not only by her native country but also now by her adopted country.
Associate Musical Director: Rushan Hewawasam
Rushan Hewawasam was born and bred in Sri Lanka and migrated to Australia in 2005, where he now permanently resides. While he has no formal musical training, he has been heavily involved in music from a young age, and is an accomplished singer, pianist, and choral conductor.
He studied at Wesley College, Colombo, where he started singing at age 9, and conducted the school choir from age 15. He conducted a 500-voice choir for the 2000 year jubilee. In 2002, he represented Sri Lanka at the Asia Pacific Chorus Conference in Manila.

Rushan joined Victoria Welsh Choir in 2012 as a second tenor. He has been very involved as a choral member,  frequently performing as a soloist and arranging music for the choir, the last of which was performed at the Melbourne Recital Centre celebrating St David's Day.   In addition Rushan also conducts ConChord, another Melbourne-based choir.

Professionally, Rushan is an accountant and currently CEO for a medical education and GP practice group.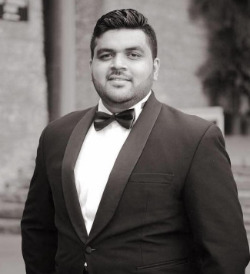 Accompanist: Lorna Ogilvie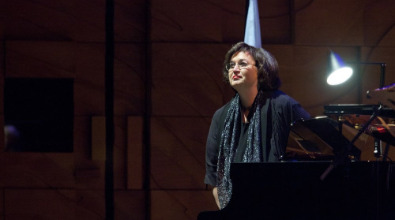 Lorna was born in South Africa, where she completed her secondary education. She subsequently graduated from Melbourne University with a double major in Music Performance (Piano) and History.  She also has a Dip.Ed. from Monash University.  Lorna works in schools and privately as an instrumental teacher (piano, theory and music craft), VCE Music teacher (in particular Aural, Theory and Solo Performance) and as accompanist (in schools and freelance) for choirs and soloists.  Lorna joined Vic Welsh in 1998. 

Picture: Arts Photography Belinda

Bendigo Accompanist and Organist: Elizabeth Paton
Elizabeth began learning the organ at her local church at age 16 after 8 years of studying the piano. She spent 4 years studying the organ in Melbourne and is now relief organist at several churches throughout Bendigo. She spent 13 years as accompanist to the Bendigo Youth Choir, and also occasionally plays for Bendigo Chamber Choir & Bendigo Chorale. Elizabeth joined Vic Welsh in 2002.
Photo: Graeme Sargeant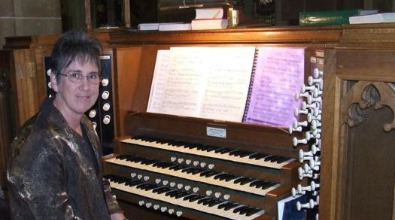 Behind the Scenes
Tu ôl i'r Golygfeydd
There is much more to putting on a Victoria Welsh Choir concert than meets the eye.  The work behind the scenes is done by people such as: 
Our Concert Production and Stage Managers
Our Stage Setup Team
Our Sound System Manager
Between concerts there are many more jobs, such as:
Our Concert Planning and Marketing Committee
Our Training Aid Co-ordinator, who prepares practice recordings
Our Welsh Pronunciation Teacher
Our First Aid Officers
All these jobs, and many others, are done by choristers or members of our
Support Group

, and it is all supervised and coordinated by our Committee.
The Vic Welsh Family
Y Teulu Vic Welsh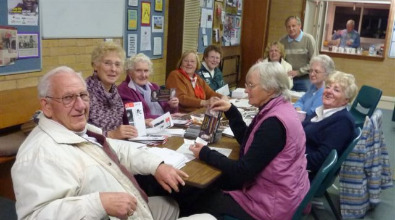 A Wednesday night "fold and stick" session in Melbourne
Photo: Shirley Croxon
We pride ourselves that Victoria Welsh Choir is a family, made up of:
Our Music Team
Our Choristers
Our Support Group
Victoria Welsh Choir's Support Group consists of choristers' wives and partners who have got together with a few other supporters of the choir to help in any way they can and to enjoy each other's company.  On Wednesday nights, in particular, the room next to our rehearsal hall is a hive of activity as support group members get on with tasks such as making supper, preparing mail-outs, or just knitting and chatting.  And, like a family, we share each others' celebrations and support each other in times of grief.
Pandora's Box
Bocs Pandora
Victoria Welsh Choir rarely goes anywhere without our truck, which contains everything we need to present a high-quality, polished performance in any venue, great or small, whatever facilities may or may not be available locally.  We call her Pandora's box, because no matter what we need for a performance – platforms for choir and conductor, music stands, spare keyboard, mikes, speakers, flags – you name it – it's in Pandora's box!  Pandora's box has been all over Melbourne and Victoria, and in November 2010 we even took her to the south of Western Australia - a round trip of nearly 10,000 kilometres!   
Pandora's box plays a key role in enabling Vic Welsh to fulfil our mission statement:  We strive to be a choir of outstanding quality and to provide our audiences with a consistent standard of excellence in the finest tradition of Welsh male voice choirs.

                                      Pandora's Box
Interstate and Overseas Tours
Teithiau Vic Welsh
Victoria Welsh Choir has toured both interstate and overseas:
In 2018 to South Australia for concerts in Adelaide (2), Kadina and Kapunda

In 2016 to Wales and Worcestershire for concerts in Cardiff (2), Aberaeron, Pershore and Worcester

In 2013 to the North Island of New Zealand, as special guests at the Festival of NZ Male Choirs In Auckland
In 2012 for concerts in St Asaph and Betws-y-Coed in North Wales, Aston in Oxfordshire and the Wales Choir of the World pre-Olympics concert at the Festival Hall in London with Bryn Terfel

In 2010 to Western Australia for concerts in Bunbury, Kojonup, Subiaco and Midvale

In 2008 to Sydney and the south coast of New South Wales for three concerts
In 2006 to Tasmania for five concerts
In 2004 to Wales for the National Eisteddfod at Newport (placed third in category) and concerts in Blaenavon, Morriston, Llangennech, Bishopston and Newcastle Emlyn

In 1999 to Wales for the National Eisteddfod in Anglesey and concerts in Betws-y-Coed, Felin Fach, Gilfach Goch and Sutton Veny

In 1996 to Broken Hill (New South Wales) and Mildura again
In 1995 to Wales for six concerts and then to London for the Thousand Voices concert at the Royal Albert Hall
In 1990 to the South Island of New Zealand
In 1983 to Broken Hill (New South Wales) and Mildura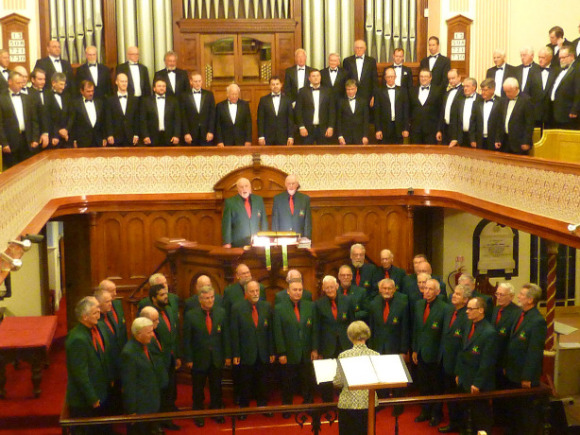 With Côr Meibion Taf in the Tabernacl Church, Cardiff on our 2016 tour of Wales and Worcestershire
Photo: Glynis Rose